Durban City Tour
Duration: 3 hours :
R350 per person
So much to see & do-you choose!!! Take the skycar at the new Moses Mabhida Stadium for the best views of Durban City. Take in the tranquility and beauty of the Botanical Gardens.
The 100 years old Victoria Street Oriental Market is a must. The Harbour view from Wilson's Wharf. Travel along the beachfront towards the harbour entrence where you can see anything from Sari clad Indian Ladies walking on the sand to Traditional Healers collecting bottles of seawater to use as Muti (medicine).
Discover the highlights of the city of Durban, with this tour showing you the cultural and hostorical contrasts of the city.

Valley of a Thousand Hills
Duration: 5 hours :
R500 per person
We will travel along a scenic route to the Valley of a thousand Hills and you will be guided through the Crocodile Farm where you will see on of the largest crocodiles in KwaZulu - Natal, and a full range of snakes which are indigenous to the area.
We will visit traditional Zulu home at phezulu for a display of tribal Dancing to pounding drums, and a good opportunity to learn about the proud Zulu Nation and their age old customes.
The guide will be able to give you many fascinating facts about the area and it's history.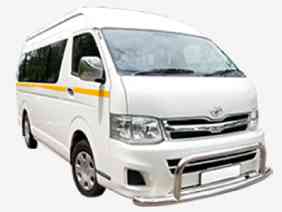 Tala Game Reserve & Valley Of Thousand Hills
Duration: 8 hours :
R1300 per person
Depart from Durban westwards into the bushveld for a drive at a Private Game Reserve that boasts wildlife such as Rhino, Giraffe, Zebra, Wildebeest, Hippo and a wide variety odd Antelope.
This is followed by lunch. We then depart for the Valley of 1000 Hills for a visit to Assegai Safari Park for a guided tour of the Crocodile enclosures and the Snake collection.
We than visit "Phe-Zulu", a traditinal Zulu village, for a cultural show, encompassing tribal songs and dance to the rhythem of drums and a tour of the village.